GeneCopoeia offers the largest collection of ORF clones, with genome-wide coverage for human and mouse. All ORFs can be readily expressed in combination with a variety of fusion tags (fluorescence, antibody, solubility, purification or no tag), promoters and selection markers, for easy expression in different host systems.
Product Information
OmicsLink™ Expression-Ready ORF Collection

Our Nextday-ORF™ collection is a subset of our OmicsLink™ clones, with guaranteed next-day shipping for 140,000 premade ORF clones in mammalian and lentiviral expression systems, as well as the Gateway® shuttle vector.

Secondary Clone Discount

When you order more than one clone for the same ORF (with the same gene accession #) in different vector systems, you can purchase each additional clone at a discount price of $200.
Key advantages
Next-day shipping of 140,000 ORF clones in mammalian, lentiviral, and Gateway® PLUS systems
Largest vector collection in the industry, with 200+ vector types (click here)
All premade ORF clones available in clone sets by gene groups
All ORF clones are fully sequence-verified and guaranteed
OmicsLink™ ORF Clone Expression Systems

| | | | | | |
| --- | --- | --- | --- | --- | --- |
| Vector | Promoter | Host Cell | Selection Marker | Tag | Protease Site |
| pReceiver-I01 | AcMNPV polyhedrin | Insect cell | N/A | N-His | Tev |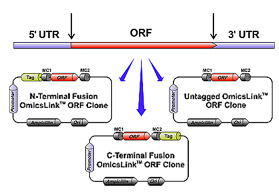 Largest number of tags to choose from
| | |
| --- | --- |
| Fluorescent tags | eGFP, eYFP, eCFP, mCherry |
| Multifunctional tags | HaloTag®, AviTag™ |
| Solubility and purification tags | His, SUMO, GST, MBP, Flag, 3xFlag |
| Antibody Immunoprecipitation tags | HA, cMyc |
Anti-tag antibodies available for easy detection
| | |
| --- | --- |
| Popular tags and technologies | |
* Promotion valid for US & Canada only. International customers, please contact your local distributor for pricing information. Discount on ORF is not valid on $69/$99 clones, secondary or control clones. Also not valid on custom service or gene synthesis clones. Discount is only valid on clones that express ACE2 & TMPRSS2. Next-day shipping is available for NextDay ORF clones in bacterial stock format. Lead times for NextDay ORF clones in purified plasmid is ~3-5 days. Orders for NextDay ORF clones must be received by 12PM EST Mon-Thurs in order to be processed and shipped the next day. Not valid on previous purchases. Promotion ends June 30, 2020.