GeneCopoeia offers the largest collection of ORF cDNA clones, with genome-wide coverage for humans and mice. All ORF cDNAs can be readily expressed in combination with a variety of fusion tags (fluorescence, antibody, solubility, purification, or no tag), promoters and selection markers, for easy expression in different host systems.
Product Information
OmicsLink™ Expression-Ready ORF cDNA Collection

Our Nextday-ORF™ cDNA collection is a subset of our OmicsLink™ ORF cDNA clones, with guaranteed next-day shipping for 140,000 premade ORF cDNA clones in mammalian and lentiviral expression systems, as well as the Gateway® shuttle vector.

Secondary ORF cDNA Clone Discount

When you order more than one clone for the same ORF cDNA (with the same gene accession #) in different vector systems, you can purchase each additional clone at a discount price of $200.
Key advantages
Next-day shipping of 140,000 ORF cDNA clones in mammalian, lentiviral, and Gateway® PLUS systems
Largest vector collection in the industry, with 200+ vector types (click here)
All premade ORF cDNA clones available in clone sets by gene groups
All ORF cDNA clones are fully sequence-verified and guaranteed
OmicsLink™ ORF cDNA Clone Expression Systems

| | | | | | |
| --- | --- | --- | --- | --- | --- |
| Vector | Promoter | Host Cell | Selection Marker | Tag | Protease Site |
| pReceiver-I01 | AcMNPV polyhedrin | Insect cell | N/A | N-His | Tev |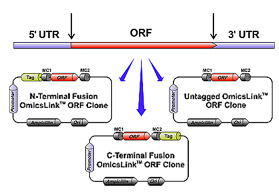 Largest number of tags to choose from
| | |
| --- | --- |
| Fluorescent tags | eGFP, eYFP, eCFP, mCherry |
| Multifunctional tags | HaloTag®, AviTag™ |
| Solubility and purification tags | His, SUMO, GST, MBP, Flag, 3xFlag |
| Antibody Immunoprecipitation tags | HA, cMyc |
Anti-tag antibodies available for easy detection
| | |
| --- | --- |
| Popular tags and technologies | |
* Promotion is valid in the US & Canada only. For international customers, please contact your local distributors. Discounts are not valid on previous purchases and cannot be combined with additional discounts. NextDay clones, secondary clones, control clones, gene synthesis clones, and customized clones are excluded.
** Disclaimer: Next-day shipping is available for NextDay ORF cDNA clones in bacterial stock format. Lead times for NextDay ORF cDNA clones in purified plasmid is ~3-5 days. Orders for NextDay ORF cDNA clones must be received by 12PM EST Mon-Thurs to be processed and shipped the next day.