Exosomes are secreted nanovesicles with diameters ranging from 30 to 150 nm and produced in the endosomal compartment of most eukaryotic cells. They are present in all body fluids under both normal and pathophysiological conditions. They have important roles in mediating intercellular communication by serving as carriers of different biomolecules, including proteins, RNAs, and lipids from one cell to another. Exosomes share common features such as certain tetraspanins (CD9, CD63, and CD81), heat shock proteins, biogenesis related proteins, membrane transport and fusion proteins, nucleic acids (mRNA, miRNA, and long non-coding RNAs and DNAs), and lipids.
These unique properties of exosomes provide opportunities for innovations in diagnosis and treatments. The pathway of intercellular vesicle traffic plays an important role in many aspects of human health and disease, including development, immunity, tissue homeostasis, cancer, and neurodegenerative diseases. Therefore, there is a growing interest in clinical applications of exosomes as biomarkers and for therapeutic use.
Applications
Exosome quantitation
Exosome biodistribution studies
Exosome animal study tracking
Cell uptake studies
Cell targeting studies
Drug library screening
Product Details
GeneCopoeia offers lentiviral particles that efficiently express exosome biomarkers CD9, CD63 and CD81 with different reporter genes (tdTomato, mCherry-Flag, Flag-Gluc). These constructs can help you track the exosome packaging, secretion, targeting and trafficking mechanisms.
The ultra-purification of exosome lentiviral particles and exosome cell lines services are also available. Please contact us at inquiry@genecopoeia.com.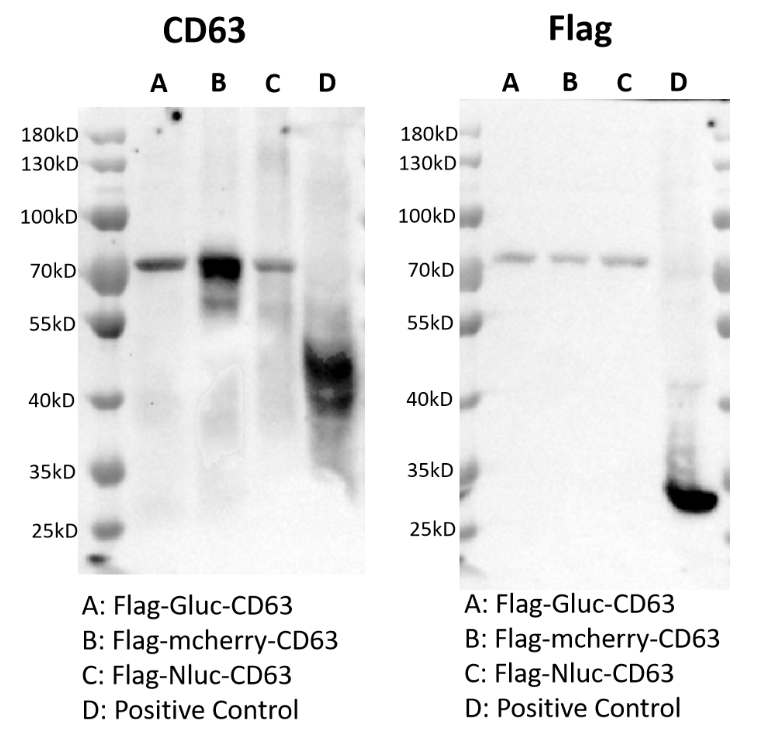 Figure 1: CD63 exosome biomarker western blot. Expressed A, B, C, D vectors in HEK293T cell line. The positive control is Flag-EGFP. Exosomes were isolated from the cell culture supernatant. The picture on the left is detected by 1:1000 anti-CD63 antibody and 1:5000 anti-mouse IgG antibody. The picture on the right is detected by 1:1000 anti-Flag antibody and 1: 5000 anti-mouse IgG antibody. The expected size of the protein: Flag: 24 kDa, Gluc: 18 kDa, Nluc: 19 kDa, mCherry: 26 kDa, CD63: 53 kDa, Flag-Gluc-CD63: 73 kDa, Flag-mCherry-CD63: 81 kDa.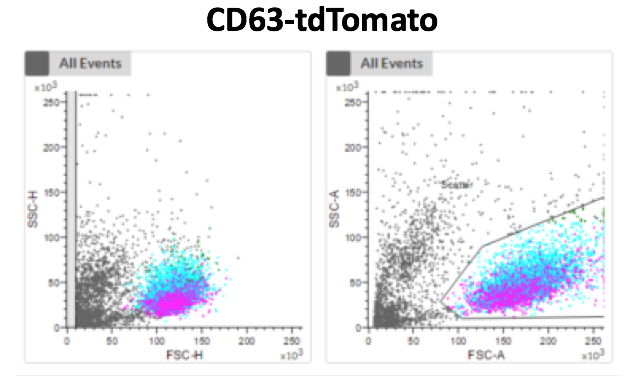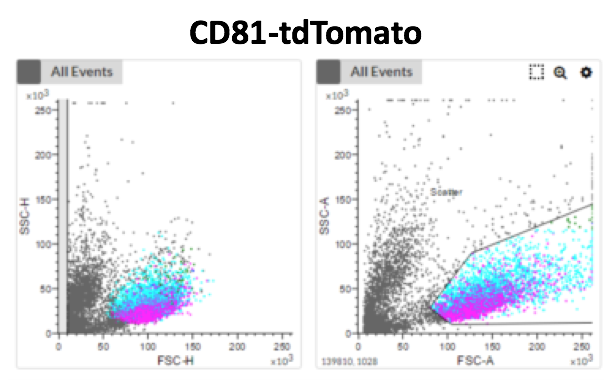 Figure 2: FACS analysis for labeled exosome cell feeding experiments. CD63-tdTomato and CD81-tdTomato fusion proteins were expressed in the HEK293T cell line. Exosomes were isolated from the cell culture supernatant and used for cell feeding experiments. The new plates of the HEK293T cells were incubated with isolated-exosomes for 6 hours and then were FACS-sorted for analysis.