GeneCopoeia's OmicsArray™ antigen microarrays are high-throughput protein microarrays (also known as "protein arrays" or "protein chips") that are powerful tools for many applications, including autoantibody profiling, biomarker detection, pathogen-specific antibody identification, and more. Antigen microarrays enable detection of hundreds to thousands of antibodies or other biomarkers present in multiple samples in parallel.
Each array contains superior-quality purified antigens printed onto nitrocellulose filters, which are adhered to glass slides. Antigens known to be associated with specific diseases or pathogens are chosen based on a thorough review of peer-reviewed publications.
Advantages of OmicsArray™ Antigen Microarrays
Largest collection of pre-made whole-protein antigen microarrays on the market.
Largest number of whole-protein antigens specifically focused on autoimmune disease research.
Best combination of number of antigens per array (up to 120) with number of samples that can be processed per slide (up to 15).
OmicsArray™ premade antigen microarrays
For pricing, please inquire.
In addition to premade arrays, arrays containing customized sets of antigens are available, as well as array processing kits, array profiling services and data analysis.
Antigen microarray processing kits
Custom services
GeneCopoeia offers custom antigen microarray services in the following areas:
Custom array printing. GeneCopoeia will create custom antigen microarrays built to your specifications.
Sample processing. Send us your blood, plasma, tissue, or other biological sample and we will prepare it for processing and incubation with any of our premade antigen microarrays or custom-built antigen microarrays for autoantibody profiling and other applications. For information on sample types to submit, consult the FAQ
Data analysis. Once samples are processed and incubated with an antigen microarray, we will analyze the raw data. The standard analysis service includes: 1) An Excel file of the Net Signal Intensity (NSI) for each antigen on the array, normalized to internal controls; and 2) a heat map
Additional analysis services, including proteomic analysis, pathway analysis, and more, are also available.
To inquire about custom antigen microarray products and services, please fill out our custom quote request form.
* Promotion is valid in the US & Canada only. For international customers, please contact your local distributors. Discounts are not valid on previous purchases and cannot be combined with additional discounts. PA014 antigen array, and customized array printing and services are excluded.
Technology overview
Technology overview
GeneCopoeia's OmicsArray™ antigen microarrays contain up to 120 purified antigens spotted onto nitrocellulose filters, which are adhered to glass slides. In addition, 8 spots are included for normalization. Each slide carries 16 identical arrays, and so can be used to process up to 15 samples simultaneously as well as a negative control. As little as 1 ul serum or 50 ul of other bio fluids are needed for each sample.
As shown in Figure 1, arrays are incubated with patient samples, and any autoantibodies in the samples bind to their cognate antigens on the array. The arrays are washed to remove unbound autoantibodies and other proteins, then co-incubated with Cy3- and Cy5-labeled secondary antibodies. The dual labeling strategy is intended to distinguish between immunoglobulin (Ig) subtypes present within samples. For example. a Cy3-labeled anti-IgG secondary antibody is used to detect IgG autoantibodies, and a Cy5-labeled anti-IgM secondary antibody is used to detect IgM autoantibodies. Fluorophore-labeled secondary antibodies are available for detecting IgA, IgD, IgE, IgG and IgM immunoglobulins, as well as IgG subclasses IgG1, IgG2, IgG3, and IgG4.
After washing to remove unbound secondary antibodies, signals are detected using a GenePix® 4400A microarray scanner. The raw data is then analyzed using GenePix® 7.0 software.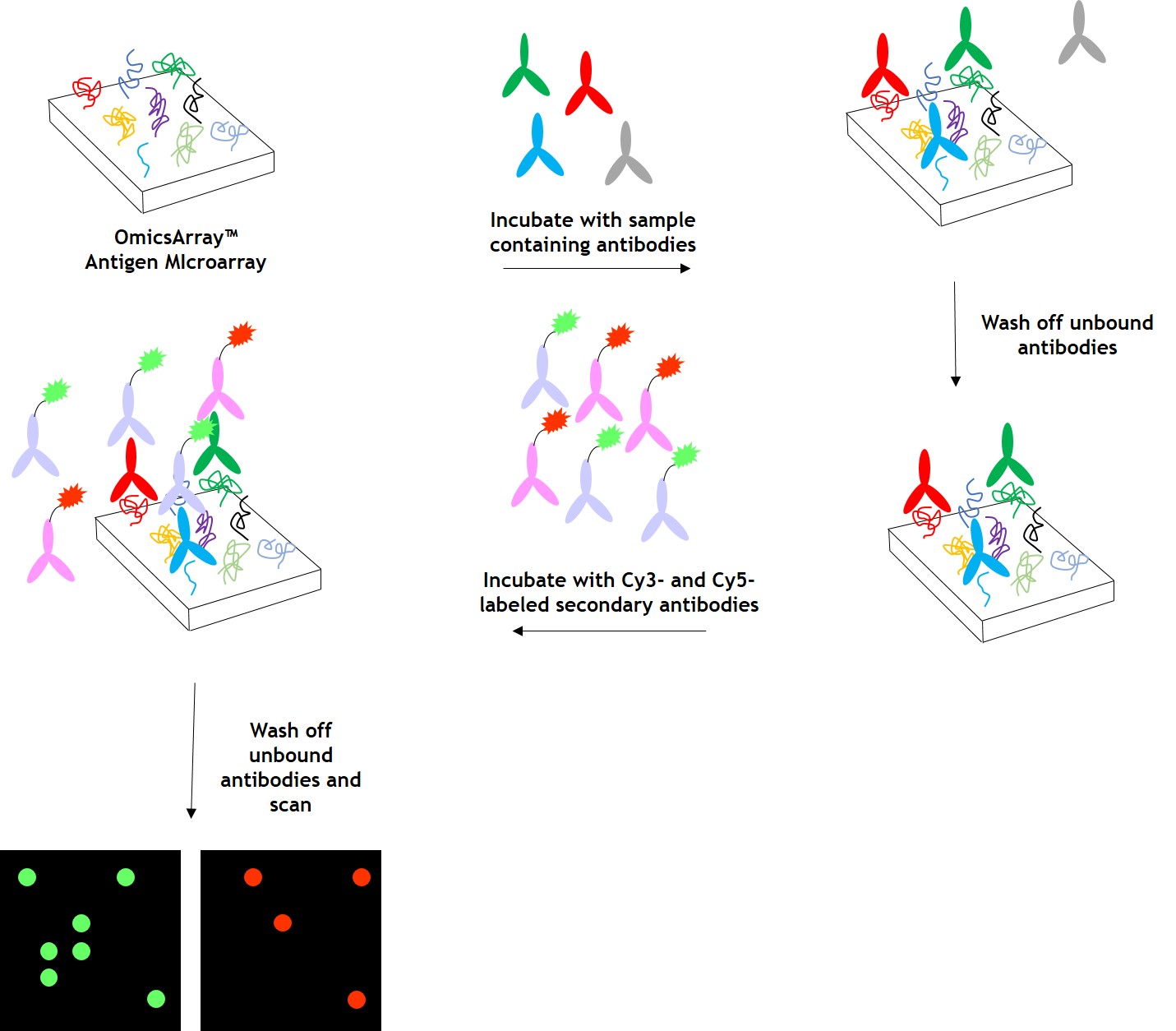 Figure 1. Workflow for autoantibody profiling in samples using GeneCopoeia's OmicsArray™ antigen microarrays.