GeneCopoeia's stable cell lines constitutively expressing the CRISPR Cas9 nuclease enable you to carry out CRISPR genome editing applications with high efficiency.
The GeneHero™ Cas9 stable cell lines are available pre-made in many human, mouse, and rat cell line backgrounds. The S. pyogenes CRISPR Cas9 nuclease is stably integrated into either the human AAVS1 or mouse ROSA26 "Safe Harbor" sites, or randomly via lentiviral-mediated transduction.
The CRISPR Cas9 nuclease, in combination with single guide RNAs (sgRNAs), is widely used to create targeted genomic modifications, from gene knockouts, mutagenesis, fusion tagging, and more, in eukaryotic cells and animal models. Stable Cas9 integration ensures robust and consistent expression of the CRISPR Cas9 nuclease.
Don't see the Cas9 stable cell line you want? We also offer custom cell line service. Please contact us at inquiry@genecopoeia.com, or call 866-360-9531 or 301-762-0888 for a quote.
Order pre-made Cas9-expressing stable cell lines
Choose your human, mouse, or rat Cas9-expressing stable cell line from the list below. You can also find Safe Harbor Cas9 knock-in kits, for do-it-yourself engineering of the Cas9-expressing stable cell line of your choice. In addition, you can purchase one of our IndelCheck™ insertion/deletion detection kits, for efficient validation of CRISPR sgRNAs and TALENs, and for screening for CRISPR- or TALEN-modified cell lines
Disclaimer: Pricing for premade cell lines are for customers in the US and Canada only. International customers, please contact your local distributor for pricing.
Control Lentivirus expressing sgRNA
Lentiviruses carrying functional validated sgRNA targeting either GFP, HUWE or EMX1 are available as positive controls for the premade stable Cas9 cell lines. Simply transduce the control sgRNA-lentivirus to the Cas9 cell line, the infected cells can be selected by mCherry fluorescence and puromycin resistance, and editing of the target genes can be verified with either T7 Endonulease I assay or DNA sequencing.
Figure Left: Demonstration of stable Cas9 activity in a cell line. Human H1299 cells stably expressing Cas9 nuclease from the AAVS1 Safe Harbor site were transduced with HUWE sgRNA-lentivirus (Cat # LPP-HUWE-LvSG03-A00). PCR products flanking the sgRNA target site were generated, denatured, reannealed, and treated with (+) or without (-) T7 Endonuclease I, which cleaves mismatched DNA. The presence of two bands below the uncut band at the correct sizes indicates that Cas9 is active in these cells. Right: Lentiviral plasmid carrying target sgRNA (either GFP, HUWE or EMX1) used for lentivirus packaging.
Applications
High-throughput knockout screening with many sgRNAs, either individually or in pools. Ideal for drug target discovery (Figure 3).
Convenient validation of several drug target candidates.
Validation of sgRNA cleavage activity in a fast-growing, easy-to-transfect or transduce model cell line, either prior to transfection/transduction of your cell line, or to troubleshoot sgRNAs with little or no cleavage activity.
Applications requiring inducible genome modification.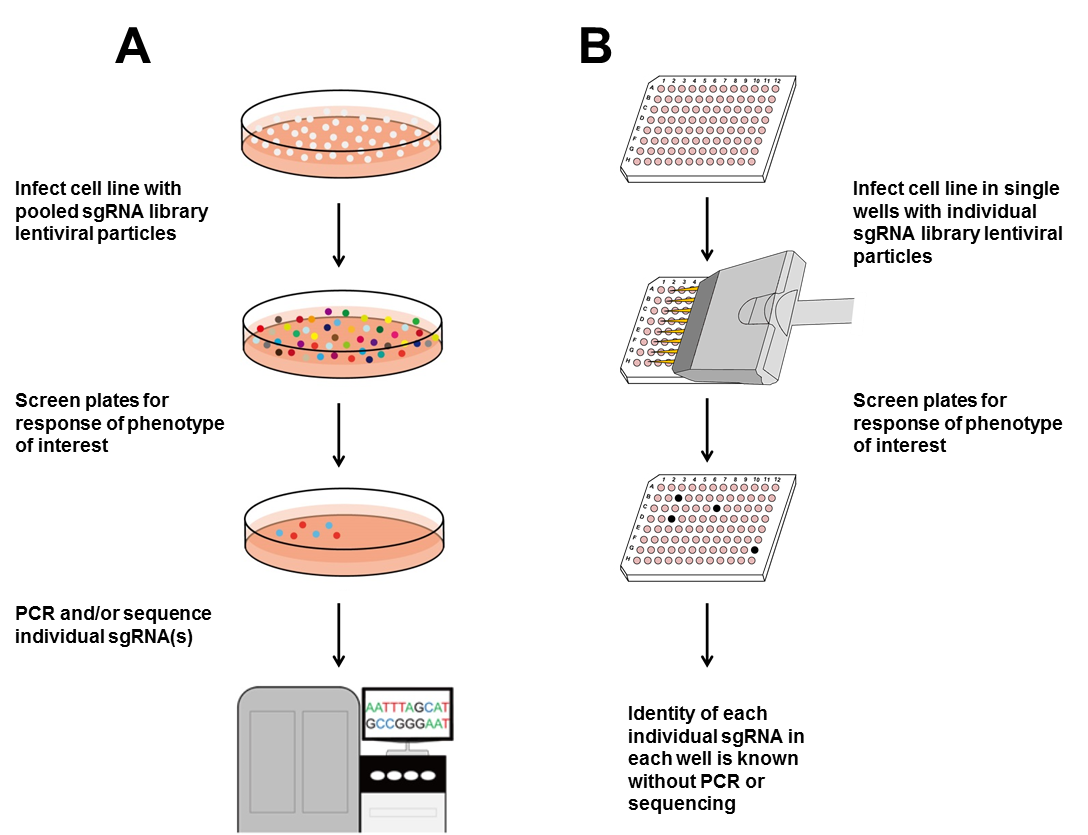 Figure 3. Example application of Cas9-expressing stable cell lines Use of the GeneHero™ Cas9 stable cell lines with CRISPR sgRNA libraries for drug target discovery. A. Pooled screen. Cas9-expressing cells infected with each sgRNA library pool are screened for the desired readout. Pooled cells are subjected to Sanger sequencing for individual sgRNAs, or deep sequencing to look for over- or under-representation of individual sgRNAs. B. Knockout screen using arrayed sgRNAs. Cas9-expressing cells are infected with individual sgRNA lentiviruses. Wells are screened for the readout of interest. Individual sgRNAs corresponding to the phenotype of interest are already known without sequencing.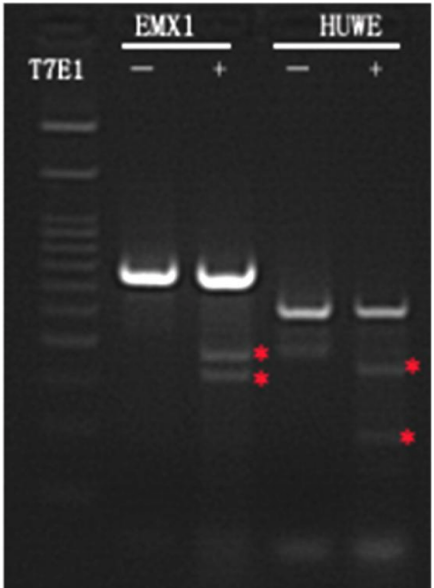 Figure 4. sgRNA targeting to EMX1 or HUWE gene were transduced into Cas9 cell line by lentiviral particals. EMX1 or HUWE gene was cut by Cas9 expressed inside the cells and repaired through NHEJ with mutation. The mutations were recognized and cut by T7 Endonuclease I, resulting in shorter DNA fragments (marked with red asterisks).
Technical note
View selected publications citing GeneCopoeia's GeneHero™ Cas9 stable cell line frm the recent literature
2018
2017