General information
GeneCopoeia's COVID-19 Neutralizing Antibody Screening Services fill an urgent need in the development of vaccines against SARS-CoV-2, the virus responsible for the COVID-19 pandemic. The primary goal of current COVID-19 vaccines is to stimulate the production of neutralizing antibodies, which inhibit binding of the SARS-CoV-2 Spike protein to its cell surface receptor, ACE2, thereby preventing infection and illness development.
For more information or to request a quote, please contact inquiry@genecopoeia.com.
How it Works
GeneCopoeia uses a pseudovirus neutralization assay (PsVNA) to screen serum samples for the presence of SARS-CoV-2 neutralizing antibodies, which inhibit the ability of Spike-pseudotyped lentiviruses to infect HEK293T cells expressing ACE2 (Figure 1). This assay can also be used to screen for antiviral drugs that target the Spike-ACE2 interaction. The PsVNA is useful in conjunction with classical Plaque Reduction Neutralization Testing (PRNT), to provide fast, large-scale quantitative screening of patient samples or compounds. PsVNAs are widely used in vaccine and therapeutics development studies.
A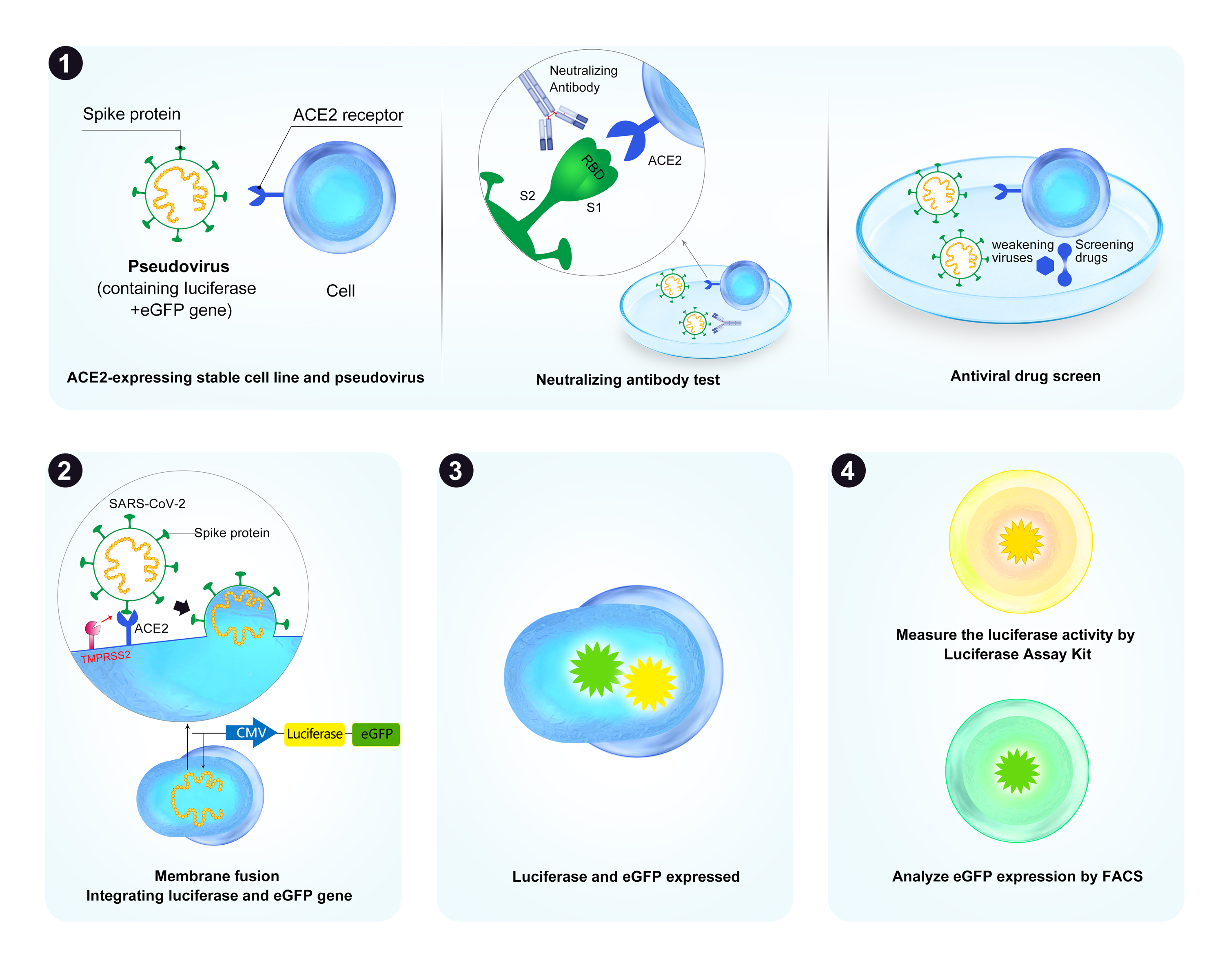 B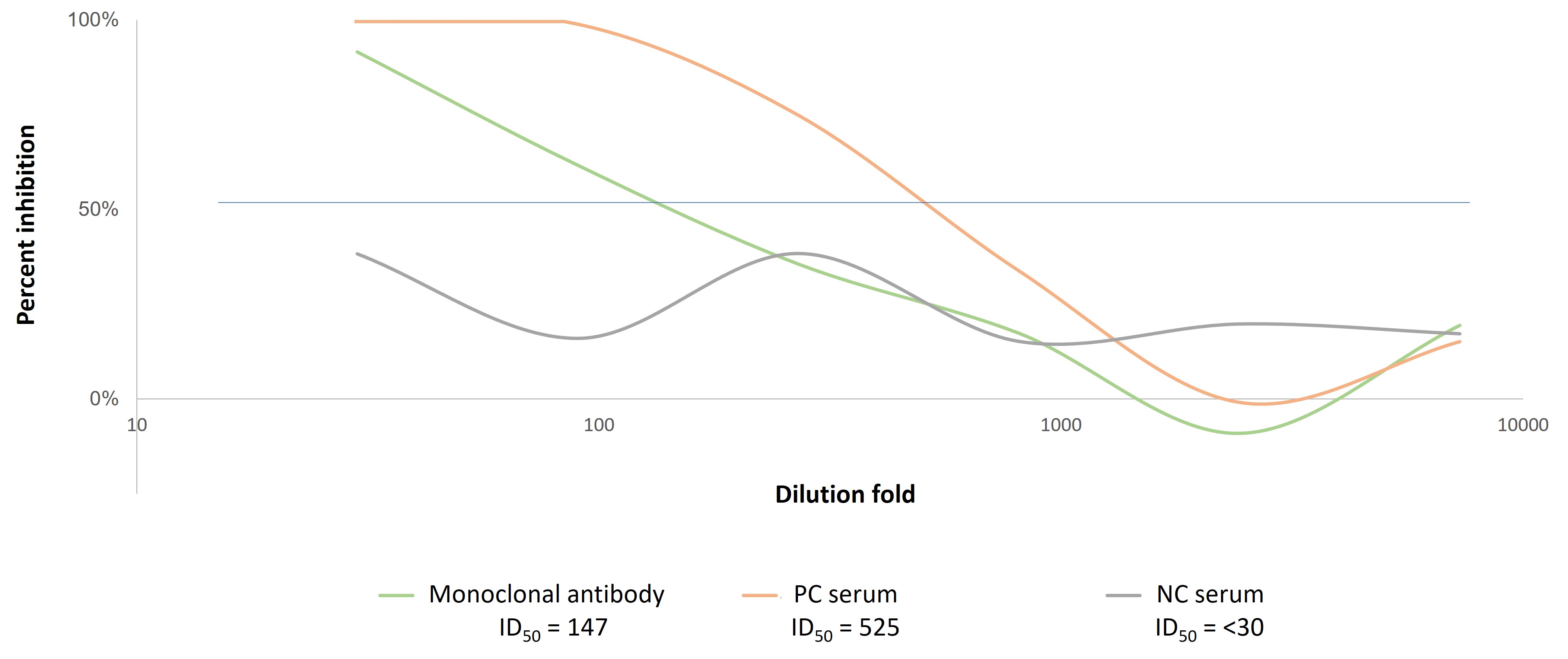 Figure 1. A. General procedure for GeneCopoeia's COVID-19 Neutralizing Antibody Screening Service. 1). A system consisting of SARS-CoV-2 Spike-pseudotyped lentivirus ("Pseudovirus") and a HEK293T cell line ectopically expressing host factors ACE2 and TMPRSS2 is used to screen for either neutralizing antibodies (antibodies that block the interaction of the Spike protein with ACE2) or for antiviral drugs targeting the Spike-ACE2 interaction. 2). Pseudovirus is used to infect cells in the presence or absence of neutralizing antibodies or antiviral compounds. 3) Infected cells express eGFP (green) and Firefly luciferase (yellow). 4) Post-infection, cells expressing eGFP are detected by fluorescence activated cell sorting (FACS). Luciferase activity is quantified by a fluorescence activity assay kit that measures luminescence. Successful neutralization activity causes reductions in both the number of eGFP-expressing cells and the level of luminescence. B. Luciferase-based neutralization assay. ACE2/TMPRSS2 overexpressing HEK293T cells (Cat.# SL222) were plated in a 96-well plate. Duplicates of three samples-an anti-SARS-CoV-2 neutralization monoclonal antibody, positive control serum (PC serum) and negative control serum (NC serum)-were mixed with cell culture medium in 3-fold serial dilutions. SARS-CoV-2 pseudovirus expressing Spike protein from the B.1.617.2 (delta) variant (Cat.# SP111-100) was incubated with each dilution at 37˚C for 1 hour, then used to transduce ACE2/TMPRSS2-HEK293T cells for 72 hours. Luciferase values were then read and activity was expressed as the 50% inhibitory dilution value (ID50). Inhibitory values below 0% are common at high dilutions in this assay and are due to sampling error.