Introduction
The IRES element is exactly what's needed for certain experiments when a single-gene vector falls short. IRES enables the coordinated co-expression of two genes with the same vector. For example, you can monitor the delivery of one gene by using a second gene with a fluorescent tag or express a protein of interest and simultaneously biotinylate it with the same vector. An IRES element is especially useful for gene delivery when working with stem and primary cells and when the following tasks are pursued:
Monitor gene delivery efficiency
In vivo biotinylation
Stable transfection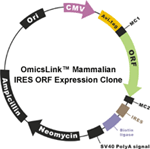 Technology
The IRES technology serves a dual-purpose. It allows the coordinated and efficient expression of two genes using the same promoter in a single vector (see figures 1 and 2). Virtually any combination of genes is possible. GeneCopoeia has already developed many constructs.
Combined with OmicsLink expression-ready clones
For a variety of applications, GeneCopoeia has incorporated the IRES element into several mammalian and lentiviral vectors using a wide choice of reporter genes including the following:
eGFP
mCherry
SUMO
biotin ligase
neomycin
luciferase
More than 20,000 human and 15,000 mouse genes are available in CMV promoter driven bicistronic (IRES) expression vectors.

Advantages
Minimal effect on biological activities of target proteins when co-expressed with reporter/ assaying genes.
Efficient co-transfection due to coordinated co-expression of two genes from a single expression vector.
| | |
| --- | --- |
| | Figure1. OmicsLink™ ORF cDNA expression clones with IRES element in mammalian and lentiviral expression vector systems. |
Applications and Data
Applications
Monitor gene delivery efficiency by co-expressing proteins with reporter genes including eGFP, mCherry or Luciferase.
In vivo biotinylation of expressed proteins with AviTag by co-expressing with biotin ligase.
Establish stable transfected cell lines for efficient selection by co-expressing with selection marker genes like Neomycin.
Rigorous quality control and assurance process
All ORF cDNA clones in OmicsLink collection were generated from sequence validated full-length cDNA clones or high-quality human tissue cDNA libraries to construct expression-ready clones.
Once the clone is constructed, GeneCopoeia follows additional quality control processes to ensure the right clone is delivered.
All ORF cDNA are fully sequenced.
PCR amplification and size validation
Enzyme digestion check of the integrity of whole plasmid
How it works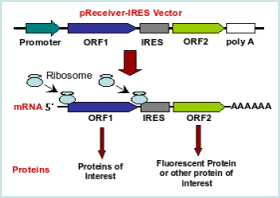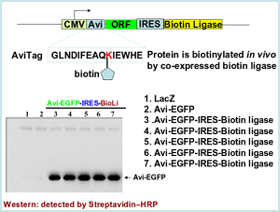 Figure 2. Specific biotinylation of AviTag eGFP by E. coli biotin ligase in 293 cells
Vectors

List of expression vectors with IRES technology
Learn more about expression-ready ORF cDNA clone collection available in bacterial, mammalian, insect, yeast and wheat germ cell free systems with more than 50 fusion tags.
References
Moroz MA, Serganova I, Zanzonico P, Ageyeva L, Beresten T, Dyomina E, Burnazi E, Finn RD, Doubrovin M, Blasberg RG. Imaging hNET Reporter Gene Expression with 124I-MIBG. J Nucl Med. 2007 May;48(5):827-836.
Allera-Moreau C, Chomarat P, Audinot V, Coge F, Gillard M, Martineau Y, Boutin JA, Prats AC. The use of IRES-based bicistronic vectors allows the stable expression of recombinant G-protein coupled receptors such as NPY5 and histamine 4.Biochimie. 2006 Jun;88(6):737-46. Mulky A, Sarafianos SG, Arnold E, Wu X, Kappes JC. Subunit-specific analysis of the human immunodeficiency virus type 1 reverse transcriptase in vivo. J Virol. 2004 Jul;78(13):7089-96.
Harries M, Phillipps N, Anderson R, Prentice G, Collins M. Comparison of bicistronic retroviral vectors containing internal ribosome entry sites (IRES) using expression of human interleukin-12 (IL-12) as a readout.J Gene Med. 2000 Jul-Aug;2(4):243-9. Fujiwara T, Urata Y, Tanaka N. lomerase-specific oncolytic virotherapy for human cancer with the hTERT promoter. Curr Cancer Drug Targets. 2007 Mar;7(2):191-201.
Martinez-Salas E. Internal ribosome entry site biology and its use in expression vectors. Curr Opin Biotechnol. 1999 Oct;10(5):458-64. D Trouet, B Nilius, T Voets, G Droogmans, J Eggermont. Use of a bicistronic GFP-expression vector to characterise ion channels after transfection in mammalian cells. Pflugers Arch (1997) 434: 632-8.