Introduction
GeneCopoeia's GLuc-ON™ transcriptional response element (TRE) clones enable rapid and sensitive signal pathway analysis in mammalian cell lines. Using a secreted Gaussia Luciferase (GLuc) as the reporter, GeneCopoeia GLuc-ON™ TRE clones are designed for robust and sensitive activation of specific signaling pathways in response to environmental stimuli or other experimental manipulation. Each GLuc-ON™ TRE clone comes either in transfection-ready or lentiviral format, and contains tandem repeats of a TRE placed upstream of a minimal CMV promoter and the Gluc gene.
Advantages
Live cell assays. Naturally secreted GLuc reporter makes lysing of cells unnecessary.
Real-time study. Data is generated quickly, closely resembling real-time activities
High-throughput compatible.
Applications
GLuc-ON™ TRE clones offer powerful tools for several applications, including:
Drug discovery or validation. Identify small molecules that either stimulate or inhibit a signaling pathway of interest.
Analyze response of cells to proteins and peptides.
Analyze response of cells to hormones.
Functional genomics. Analyze the biological effects on a signaling pathway in response to gene activation, overexpression, knockdown, knockout, or mutagenesis (Figure 1).
Viral infection. Analyze response of cells to viruses.
Figure 1. Application example: Functional genomics using TRE clones. HEK293a cells were co-transfected with Oct4 TRE clone + GFP expression clone,

negative control clone + Oct4 expression clone

, or

Oct4 TRE clone + Oct4 expression clone

. Transfected cells were incubated for 48 hours. A Gaussia Luciferase assay was performed, and transcriptional response activity values are expressed as luminance fold activation.
How do GLuc-ON™ TRE clones work?
GLuc-ON™ TRE response elements are engineered to provide strong activation of GLuc expression with low background. The GLuc reporter is a secreted protein, permitting convenient and rapid detection in the cell culture medium without lysing the cells (Figure 2).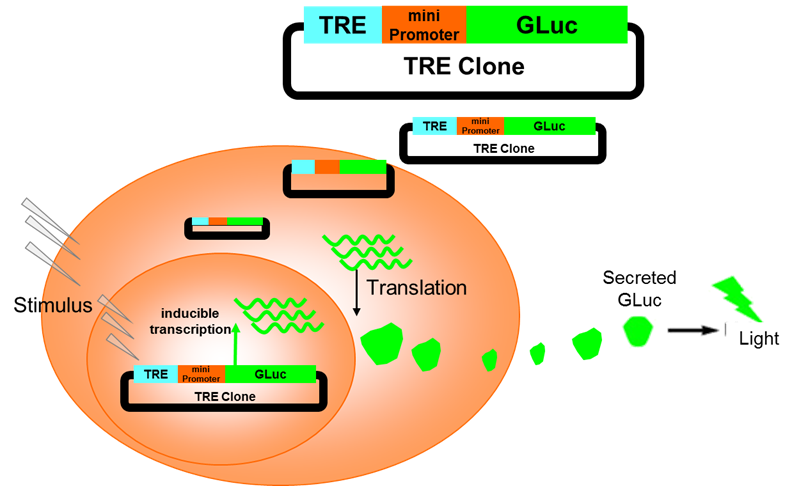 Figure 2. How GLuc-ON TRE clones work.