Transcriptional response elements (TREs) enable rapid and sensitive signal pathway analysis in mammalian cell lines. GeneCopoeia's TRE stable cell lines carry stably integrated TREs, providing you with powerful tools for applications such as drug candidate screening, drug candidate validation, and gene knockout/knockdown analysis.
GeneCopoeia's Transcriptional Response Element stable cell lines were built using GeneCopoeia's GLuc-ON™ Transcriptional Response Element (TRE) clones. Visit the GLuc-ON™ TRE Clone page to learn more.
Advantages
Convenience. Avoid spending 2 or more months constructing and validating a stable cell line.
Next-day shipping.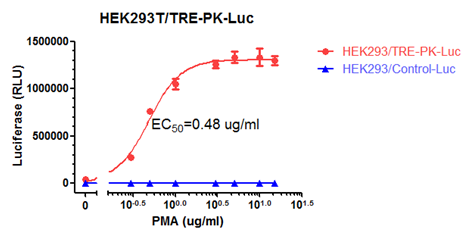 Figure 1. Analysis of TRE activity in GeneCopoeia's TRE stable cell line. Human cell line HEK293T stably expressing PKC-Luc (cat. # SL401) and HEK293T/NEG-Luc cells (cat. # SL404; negative control) were dispensed into a 96 well plate and grown for 24 hours. Cells were then treated with 0, 0.3, 0.5, 1, 3, 5, 10, or 15 ng/mL of phorbol 12-myristate 13-acetate (PMA) for 18 hours, followed by analysis for Gaussia luciferase (GLuc) activity.
Related Products