BlazeTaq™ SYBR Green One-Step RT-qPCR kit is based on quantitative reverse transcription PCR (RT-qPCR) that uses RNA as the starting material. It offers a convenient master mix to convert RNA to DNA and quantify in a one-step reaction. The kit is supplied with reverse transcriptase and a 5X master mix with a hot-start Taq DNA polymerase, dNTP and all required buffer components. Tests show that the BlazeTaq™ One-Step SYBR Green RT-qPCR kit is compatible with diverse real-time PCR instruments and outperforms competitors' products on the sensitivity and specificity of RNA detection.
​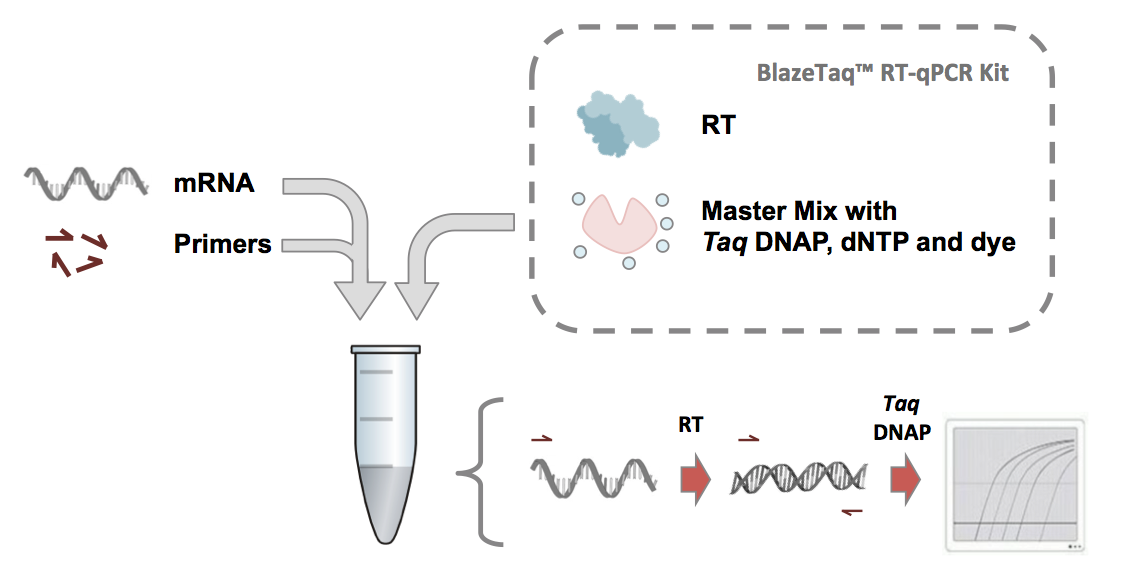 Advantages
High sensitivity- accurate detection of target RNA from as little as 0.1 pg RNA extract
High specificity, with the minimal level of primer-dimer and non-specific product formation
High amplification efficiency over wide GC-content range
Order information
BlazeTaq™ One-Step SYBR® Green RT-qPCR Kits (with or without ROX)
* Promotion is valid in the US & Canada only. Discount is valid on BlazeTaq SYBR Green- based & Probe- based qPCR mixes & kits. Discount is only valid for 600-1000 rxns. No additional discount will be provided. Not valid on previous purchases. Offer ends March 31, 2020.