Coronavirus-associated Autoimmunity (CAA) Microarray — A new comprehensive antigen protein microarray for evaluation of the immune response to COVID-19 infection and vaccination
COVID-19 is a global pandemic caused by SARS-CoV-2, a new coronavirus strain sharing similar structures with other strains in the coronavirus family including SARS, MERS, NL63, 229E, OC43 and HKU1. SARS-CoV-2 is a 30Kb RNA virus encoding 29 structural and non-structure proteins with different functions. SARS-CoV-2 infection initiates production of antibodies against different antigenic epitopes, but only antibodies against the receptor binding domain (RBD) of the Spike protein (S) are protective against viral infection. It is important to identify antibodies against different proteins and their cross-reactivity with antigens from other coronavirus strains. On the other hand, the severity of COVID-19 has been found to be correlated with the level of autoantibodies against self-proteins, for example, the COVID-19 patients with high level of anti-IFNa autoantibody tend to have severe clinical symptoms. Therefore, comprehensive measurement of antibodies against a broad range of self-antigens and viral antigens is critical in COVID-19 research. GeneCopoeia has developed a new comprehensive antigen protein array that contains 120 antigens, including 21 SARS-CoV-2 and other viral antigens, 42 human cytokines and chemokines, and 57 human self-antigens. This panel can be used for quantitative measurement of IgG, IgM, IgA and IgE antibodies against a broad range of antigens in COVID-19 patients and for evaluation of human immune responses to viral infection and vaccination.
GeneCopoeia's OmicsArray™ Coronavirus-associated Autoimmunity Antigen Microarray is part of the GeneCopoeia OmicsArray™ Antigen Microarray family.
Multiplexing capable.

OmicsArray™ antigen microarrays can assay up to 120

antigens

at a time, compared with 1 protein at a time for ELISA.

High throughput. Each slide can process up to 15 samples in parallel.

High sensitivity. Each array can detect as little as 1 pg/ml of antibody, which is 100-fold more sensitive than ELISA.

Small sample volume. As little as 1 ul of serum is needed for detection.

Fast. From sample-to-data in as little as 2 weeks.
Predesigned array
Premade antigen microarray
GeneCopoeia's OmicsArray™ Coronavirus-associated Autoimmunity Antigen Microarray is a premade protein microarray carrying 120 antigens, as shown in Figure 1. The list of antigens on this array is available upon request to inquiry@genecopoeia.com.
This array is ideally suited for the following applications for use in clinical and basic research studies:
Detection of virus-specific antibodies against different antigens of SARS-CoV-2, other coronavirus strains, influenza virus, and respiratory syncitial virus (RSV).
Detection of autoantibodies against a broad range of human cytokines and chemokines, which is valuable for evaluating the relationship between anti-cytokine antibodies and COVID-19 clinical phenotypes.
Evaluation of how COVID-19 infection will enhance the body's autoimmune reaction to various autoantigens and/or the interaction between autoantibodies and COVID-19 antibodies.
Monitoring the body's immune reactivity to COVID-19 vaccination, by ensuring the antibody reactivities induced by COVID-19 vaccination and detecting the protective antibodies against RBD of spike antigens.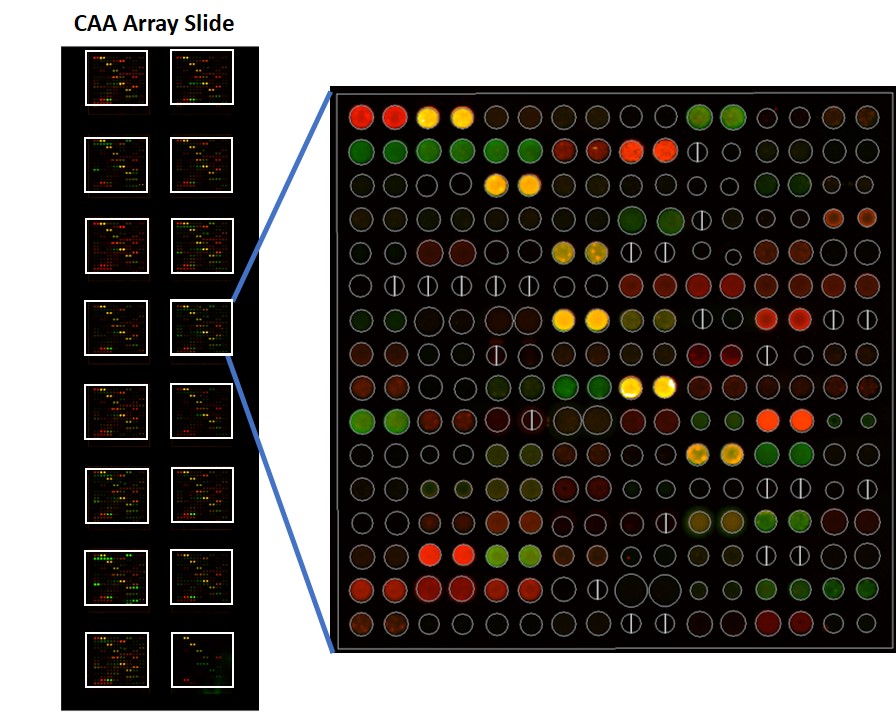 Figure 1. Arrangement of GeneCopoeia's Human Coronavirus-associated Autoimmunity Microarray. Each slide contains 16 arrays. Each array can detect 120 antigen-specific antibodies. The array is highly sensitive for a broad range of sample types including blood (5ul serum or plasma), saliva, sputum, spinal fluid, nasal swabs, tears, etc., and simultaneously detects multiple antibody types (IgG, IgM, IgA, IgE or subclasses). Array contents: 57 autoantigens, 42 cytokines, 21 virus antigens, and 8 internal controls
Custom protein microarrays are also available. To inquire about a custom protein microarray, please contact inquiry@genecopoeia.com.
References
Bastard et al., Autoantibodies against type I IFNs in patients with life-threatening COVID-19 370, 423 (2020)
Choy KW. SARS-CoV-2 serological cross-reactivity with autoantibodies. Lancet Rheumatol. 2021 Jan;3(1):e15. doi: 10.1016/S2665-9913(20)30358-1
de Assis RR, et al. Analysis of SARS-CoV-2 antibodies in COVID-19 convalescent blood using a coronavirus antigen microarray. Nat Commun. 2021 Jan 4;12(1):6. doi: 10.1038/s41467-020-20095-2
Hou X, et al. Serum Protein Profiling Reveals a Landscape of Inflammation and Immune Signaling in Early-stage COVID-19 Infection. Mol Cell Proteomics. 2020 Nov;19(11):1749-1759.