Introduction
| | |
| --- | --- |
| GeneCopoeia is the original manufacturer of human and mouse expression-ready, full-length ORF cDNA clones. Researchers worldwide have depended on GeneCopoeia OmicsLink™ cDNA clones to accelerate their research. Each OmicsLink™ expression-ready ORF cDNA clone-which contains only the protein-coding open reading frame, without its natural 5' and 3' UTR-is ready for immediate in vivo and in vitro expression. Experience real value with expression-ready clones that save you time and money. Get results faster and publish sooner. | |
Key advantages
ORFs contain only the protein-coding regions, without 5' and 3' UTR sequences
Native protein (without tags) expression exclusively from GeneCopoeia

Wide variety of tag choices to meet all of your needs

Genome-wide coverage

Fully sequence-verified and guaranteed
Save Time • Publish faster • Increase productivity
Rigorous quality control and assurance process
OmicsLink ORF cDNA clones are derived from full-length human and mouse genes that were chosen through a strict selection process. This process includes the extraction, comparison as well as validation of gene sequences and annotation information from multiple public and private sources; clustering and reduction of redundant gene sequences, filtering out error sequences or sequencing errors plus several other manual curation steps.
Following this stringent selection process, the entire coding open reading frames (ORFs) were generated from sequence validated full-length cDNA clones or high-quality human tissue cDNA libraries to construct expression-ready clones.
Once the clone is constructed, GeneCopoeia follows additional quality control process to ensure the right clone is delivered to our customers.
All ORFs are fully sequenced.

PCR amplification and size validation

Enzyme digestion check of the integrity of whole plasmid.
Multiple applications
Express in E. coli, mammalian cells or other common cell types

Express in vitro with high success with cell-free translation systems.

Use tags for protein purification and production

Use tags for purification detection and wide range of functional assays

Generate in situ hybridization probes for tissue or organ expression profiling

Restore gene functions for shRNA or miRNA functional validation studies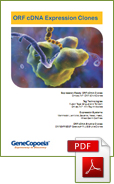 Read more – OmicsLink™ ORF cDNA brochure
Vectors and Tags
Widest choices for expression systems

| | | | | | |
| --- | --- | --- | --- | --- | --- |
| Vector | Promoter | Host Cell | Selection Marker | Tag | Protease Site |
| pShuttle™ | EZShuttle™ Gateway® PLUS ORF Clone | N/A | N/A | N/A | N/A |

| | | | | | |
| --- | --- | --- | --- | --- | --- |
| Vector | Promoter | Host Cell | Selection Marker | Tag | Protease Site |
| pReceiver-I01 | AcMNPV polyhedrin | Insect cell | N/A | N-His | Tev |
Largest number of tags to choose from
| | |
| --- | --- |
| Fluorescent tags | eGFP, eYFP, eCFP, mCherry |
| Multifunctional tags | HaloTag®, AviTag™ |
| Solubility and purification tags | His, SUMO, GST, MBP, Flag, 3xFlag |
| Antibody Immunoprecipitation tags | HA, cMyc |
Anti-tag antibodies available for easy detection
| | |
| --- | --- |
| Popular tags and technologies | |
To Order
ORF cDNA clones
Search over 45,000 human and mouse pre-designed ORF cDNA clones in your choice of vector.

Custom cDNA clone service

s
Learn more about custom gene synthesis or request quote below.

ORF cDNA lentivirus
GeneCopoeia also offers ORF cDNA lentivirus as pre-made, special collection, or custom service. Learn more here.

Clone Sets
ORF clone sets
Besides individual clones, GeneCopoeia also offers pre-made or custom-selected ORF cDNA clone sets at attractive prices. Uniformity and high-quality clone sets make them ideal for large-scale high content and high-throughput screening studies in functional genomics, proteomics and systems biology.
To learn more about our ORF cDNA clone sets, please contact us or call 866-360-9531.
Vector choices
Check out more vector types of your choice if none of the above meets your needs.
Clone sets by gene family in the vector of your choice
Questions? Please submit your inquiry here or email us at inquiry@genecopoeia.com.

Related Clones
Related ORF Clones
EZShuttle™ Gateway® PLUS ORF cDNA shuttle clones – These are fully sequence-verified Gateway® ORF entry clones. These clones are compatible with both recombination and traditional cloning using multiple cloning sites (MCS).
ORFeome Collaboration cDNA clones – These are third-party constructed and sequence-verified Gateway® ORF entry clones enabling transfer into Gateway® compatible destination vectors.
Complete ORF cDNA clone collection and selection guide – Include comparison of ORF expression-ready clones, ORF Gateway® PLUS shuttle clones, ORFeome collaboration Gateway® entry clones and full-length cDNA clones.
Control clones – Include positive and negative control clones that can be purchased together with or separately from your clone of interest.
FAQs
Frequently Asked Questions: ORF clones
* Offer is not valid for budget-friendly clones, gene synthesis services, Gateway PLUS ORF clones, ORFeome clones, and custom services. Not valid for previous purchases.