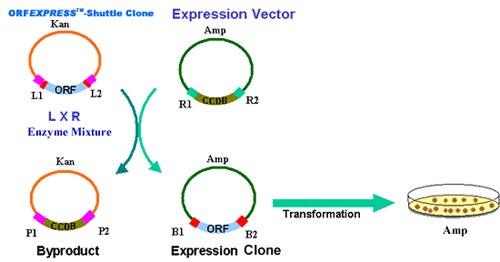 The reaction where the ORFEXPRESS™-Shuttle Clone recombines with the Destination Vector to generate the Expression Clone is based on the attL x attR excision reaction. This recombination reaction is conservative in the sense that there is no net addition or loss of base pairs during the LXR reaction and it is highly specific.
The coding region of a gene in an ORFEXPRESS™-Shuttle Clone is flanked by attL1 and attL2 at upstream of ATG (the start codon) and downstream of TGA (the stop codon), respectively. There are attR1 and attR2 recombonation sites in the Destination Vector of Invitrogen Corporation's Gateway® Technology. The recombination reactions of attL1 x attR1 and attL2 x attR2 which occur between the ORFEXPRESS™-Shuttle Clone and Destination Vector are catalyzed by an enzyme mixture composed of three proteins, IHF, Int and Xis, forming an Expression Clone which contains the ORF in the desired host vector.
To select suitable Expression Vector(s) for different hosts, visit Gateway® Technology at Invitrogen Corporation's home page, www.invitrogen.com.