Introduction
Protein gel staining and Western Blotting are important tools in proteomics (Figure 1). GeneCopoeia offers two distinct protein gel stains: 1) Coomassie® Blue Fast Stain, a ready-to-use product that does not require methanol or acetic acid fixatives or destains; 2) eLuminol™ Protein Gel Stain, a highly-sensitive fluorescent stain designed to detect proteins in SDS polyacrylamide gels. GeneCopoeia' ECL Western Blotting Detection Kit provides highly sensitive detection on immunoblots.

Figure 1. Protein gel analysis workflow
Protein Gel Stain Selection Guide
Coomassie® Blue Fast Stain

eLuminol™ Protein Gel Stain

Sensitivity

20 ng

0.5 ng

Ease of use

Ready to use

Supplied as stock solution

Time required

2 hr (standard)
20 min (microwave)
90 min (standard)
30 min (microwave)

Detection method

colorimetric

fluorescent

MS spec. compatible

Yes

Yes
Figure 2. Gel stain results with Coomassie® Blue Fast Stain (left), eLuminol™ Protein Gel Stain (middle), followed by eLuminol™ total protein stain (right). Two-fold serial dilutions (from left to right) of protein marker were separated via SDS-PAGE and then stained with above stains.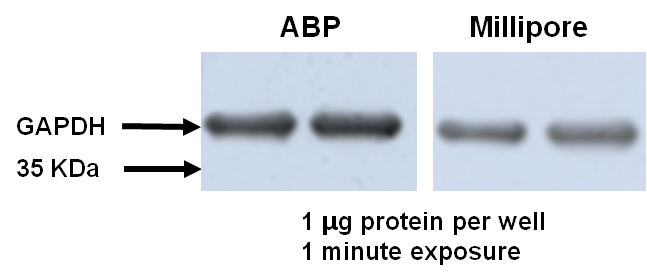 Figure 3. Detection of protein in Western Blots with ABP kit (left) and Millipore Kit (right).