Introduction
GeneCopoeia's stable cell lines constitutively expressing the CRISPR Cas9 nuclease enable you to carry out CRISPR genome editing applications with high efficiency.

The Genome-CRISP™ Cas9 stable cell lines are available pre-made in many human cell lines, and in mouse cell line Neuro2a. The CRISPR Cas9 nuclease is stably integrated into either the human AAVS1 or mouse ROSA26 "Safe Harbor" sites (Figure 1), or randomly via lentiviral-mediated transduction.

The CRISPR Cas9 nuclease, in combination with single guide RNAs (sgRNAs), is widely used to create targeted genomic modifications, from gene knockouts, mutagenesis, fusion tagging, and more, in eukaryotic cells and animal models. Stable Cas9 integration ensures robust and consistent expression of the CRISPR Cas9 nuclease.
Advantages
Stable Cas9 integration minimizes the need for co-transfection or co-transduction of sgRNAs, ideal for high-throughput sgRNA applications.
Single clone isolation provides consistent, high-level Cas9 expression in a uniform genetic background.
Cas9 functionally validated using the IndelCheck™ T7 Endonuclease I assay (Figure 2).
Compatible with GeneCopoeia Genome-CRISP™ sgRNA clones,sgRNA libraries,and donor clones.

Figure 1. Structure of a stably integrated CRISPR Cas9 nuclease construct. Hygromycin (Hygro) selection is used for isolation of single clones. CBh: Hybrid CBA promoter. 3X FLAG: N-terminal 3X FLAG tag. NLS: nuclear localization signal. bGH pA: Bovine growth hormone polyadenylation signal. EF1a: Elongation factor 1a promoter. copGFP: Copepod green fluorescent protein. T2A: Element to allow translation of copGFP and Puro independently from the same transcript. SV40 pA: Simian virus 40 polyadenylation signal.
Cas9 expression from within these stable cell lines exhibits high activity, as shown by the T7 Endonuclease I mismatch cleavage assay (Figure 2).
Figure 2. Demonstration of stable Cas9 activity in a cell line. Human H1299 cells stably expressing Cas9 nuclease from the AAVS1 Safe Harbor site were transfected with a plasmid carrying an sgRNA for the HUWE I gene. 24 hours post-transfection, cells were harvested and used for genomic DNA extraction. Using the GeneCopoeia IndelCheck™ kit, PCR products flanking the sgRNA target site were generated, denatured, reannealed, and treated with (+) or without (-) T7 Endonuclease I, which cleaves mismatched DNA. The presence of two bands below the uncut band at the correct sizes indicates that Cas9 is active in these cells.
To Order
CRISPR/TALEN Insertion or Deletion Detection System
GeneCopoeia's IndelCheck™ CRISPR/TALEN Insertion or deletion detection system is the perfect companion to Cas9-expressing stable cell lines. The system allows you to readily 1) Validate/estimate the cleavage efficiency of target site-specific CRISPR sgRNAs and TALENs in cell culture; and 2) Screen mammalian cell clones for CRISPR- or TALEN-mediated modifications.
For more information, visit GeneCopoeia's IndeCheckTM CRISPR/TALEN insertion or deletion detection system products page
Questions? Please contact us at inquiry@genecopoeia.com or 1-866-360-9531.
Applications
Applications
High-throughput knockout screening with many sgRNAs, either individually or in pools. Ideal for drug target discovery (Figure 3).
Convenient validation of several drug target candidates.
Validation of sgRNA cleavage activity in a fast-growing, easy-to-transfect or transduce model cell line, either prior to transfection/transduction of your cell line, or to troubleshoot sgRNAs with little or no cleavage activity.
Appications requiring inducible genome modification.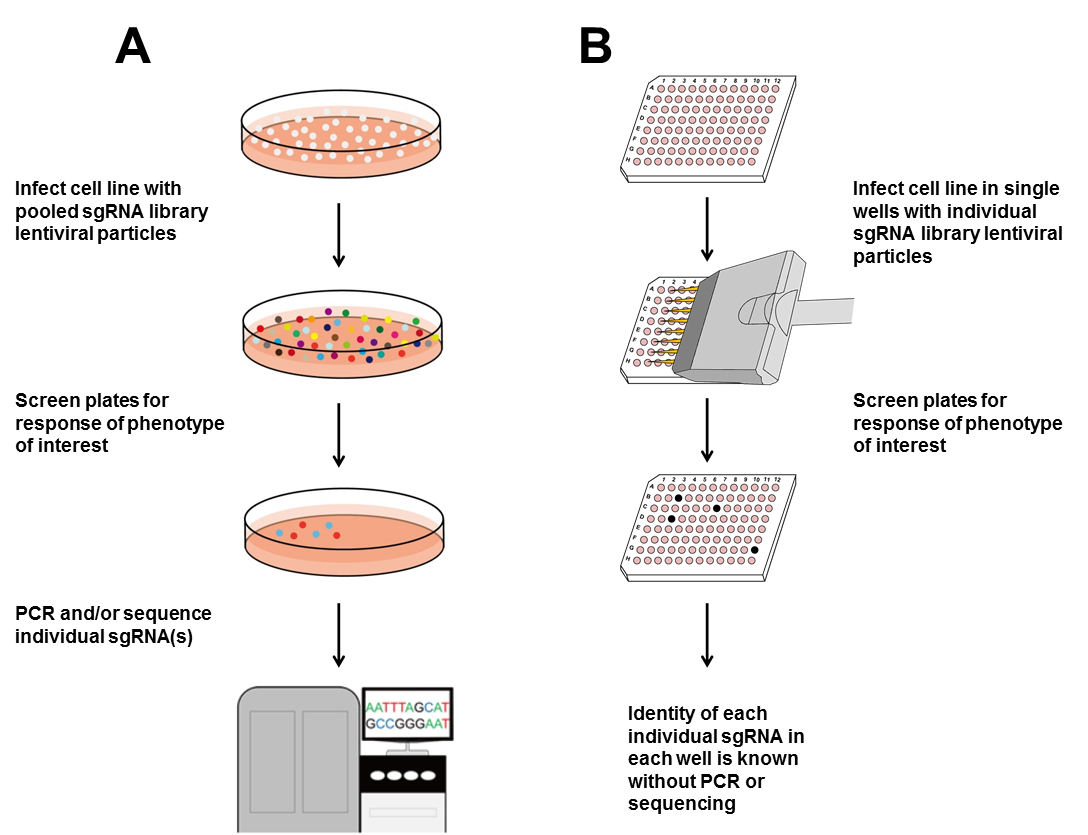 Figure 3. Example application of Cas9-expressing stable cell lines Use of the Genome-CRISP™ Cas9 stable cell lines with CRISPR sgRNA libraries for drug target discovery. A. Pooled screen. Cas9-expressing cells infected with each sgRNA library pool are screened for the desired readout. Pooled cells are subjected to Sanger sequencing for individual sgRNAs, or deep sequencing to look for over- or under-representation of individual sgRNAs. B. Knockout screen using arrayed sgRNAs. Cas9-expressing cells are infected with individual sgRNA lentiviruses. Wells are screened for the readout of interest. Individual sgRNAs corresponding to the phenotype of interest are already known without sequencing.
Related products and services